Thorpe & Egham 10k & Half Marathon
Sunday 22nd August 2021
Address: Egham Cricket Club, Vicarage Road, Egham, TW20 8NP
Start Times:
Half Marathon – 9:30am
10k – 10am
** PLEASE BE AWARE THAT THERE IS A STRICT 90 MINUTE CUT OFF FOR THE 10K AND 3 HOURS FOR THE HALF **
If you have been in an affected place, been in contact with someone with coronavirus or had any symptoms in the last 14 days please refrain from attending the race. For further guidance please visit the NHS website HERE.
Race Pack Collection

All entries on or before Tuesday 10th August will be sent race packs in the post. If you DO NOT receive your pack by midday on Friday 20th August please get in touch and let us know at
[email protected]
. Please be sure to check your race pack contains your race number and chip. Those who entered after Tuesday 10th August will need to collect your race pack from the information tent in the event village. To collect your race pack, you need to make your way to the registrations desks between 8:00am & 9:00am for the Half Marathon and 8:30am & 9.30am for the 10k. It will take around 10 minutes to collect number and drop your bag off. The earlier you get there, the more efficient we will be on the day.
When you receive your race packs, please take a couple of minutes to fill out the brief runner information form which can be found printed on the back of your bib. This will help us greatly in case of an emergency!
Race Start 
After the warm up, estimated finish times will be called to the starting pen where our marshals will guide you into a start formation with with runners keeping 2m apart as they start the race.
Please see the route maps below:
Half Marathon Course Map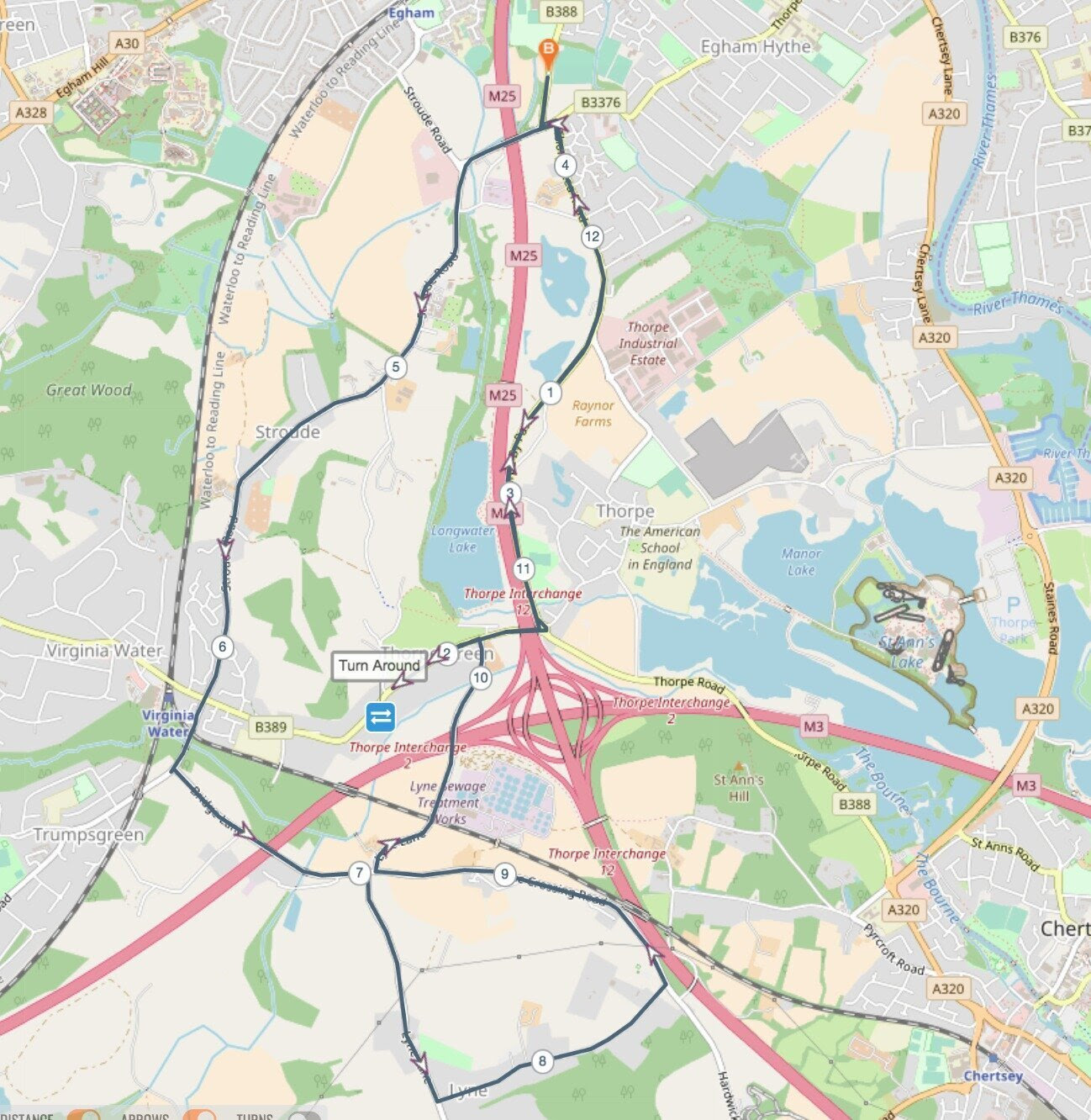 10k Course Map
Toilets
For this event there will be portaloos in the event village for use before and after the race. On the half marathon course, there will be a portaloo station available for use during the race. Lining up for these toilets will be socially distanced. If you live locally we recommend using toilets at home.
Hygiene Stations

There will be multiple hygiene stations around the event village and start/finish area for all participants to use throughout the event. These will have hand sanitiser, wipes, spray, tissue and bins for the disposal of any tissue or litter.
During the race
Spitting and nasal clearance during the race is NOT permitted.
Spectators
Due to trying to limit the numbers gathering within the event village area, we please ask that you refrain from bringing spectators to the event.
Refreshments
We recommend staying hydrated in the lead up to the event. We encourage you to also bring your own water. There will be water stations at 2.5 Mile, 6.5 Mile and 10.5 Mile for the Half Marathon and 4km and 7km for the 10k.
Baggage
Please limit the number of belongings you bring to the event and if possible leave anything in a car.  This is in order to reduce contact between runners and staff. There will be an informal self-service bag drop area within the event village for runners who need it.
After the race

Do NOT stop within the finish area. Please continue through the finish until you pass the medals and are in an open space.
There will be sealed ACTIPH water bottles at the finish for each runner to collect along with your medal, Kind Snack bar and Love Corn which will be laid out on tables for you to help yourself.
We ask that once you have collected your medal and water to leave the event as soon as possible to avoid groups congregating within the event village.
Good Luck with the run from Team ACTIPH. ACTIPH Water is the UK's first alkaline ionised bottled water with the highest pH in Europe. Through a unique ionisation process, our purified spring water is infused with a blend of electrolytes and supercharged to create a smooth and clean tasting alkaline water with a pH9+. ACTIPH is the healthy choice as you restore and maintain your natural balance, enabling you to live life to the fullest and get the most out of every day. All ACTIPH bottles are 100% recyclable and BPA free including the cap and label which makes us unique to other bottled waters and we believe gives us a clear sustainability advantage. Please remember to recycle in a recycling bin after the race. Take your hydration to a higher level and grab a bottle of ACTIPH at the finish line.
KIND® is more than just a name. It's a commitment: to making snack bars that don't compromise. Just the very best ingredients. Full of wholesome nutrients. And always packed with flavour. They have kindly donated some of their delicious bars for you all to try after your race! To find out more about KIND and their products, head to their website HERE.  Please be aware this product contains nuts.
Love Corn have kindly provided some post race goodies for you all to try and can be collected from the finish line alongside water, bananas and of course flapjacks! To check out more of their product, see their website HERE.
Runners Need
RUN FOR YOU, FOR MIND, FOR BODY, FOR LIFE.
At Runners Need we run to feel alive. To leave behind whatever holds us back and find that release, that calm and clarity, that focus. We all know a run changes your day – but it also has the power to change your life. We wish you a great race full of fun and enjoyment. Let's run together.
If you need a last minute item before the event we are delighted to be able to offer all participants of RunThrough events in 2021 a 15% discount* at Runners Need which can be used in-store with your race entry confirmation or online using the code AF-RT15. T's & C's can be HERE.
​Macmillan
Make your miles count, and run for Team Macmillan. Click here to set up your JustGiving page and help us do whatever it takes to support people living with cancer.
RT Kit

If you have purchased an item of RT Kit with your race entry, please head to the RT Kit stall on the day of your race, with your email order confirmation and we will have your item ready for collection!
Results
Results will be available on www.runthrough.co.uk after the race.
Pictures

We will have a photographer taking a few snaps of the race and they will be on Facebook after the race so be sure to check it out and see if you can spot yourself.
​COVID-19 NHS APP

​We recommend downloading the NHS COVID-19 App onto your phone if you haven't already before the race. Find out more HERE.​
Free lateral flow tests are now being offered by the Government for everybody in the community to help stop the spread of COVID-19. These can even be ordered to your home, further information can be found HERE.
Travel
Address: Egham Cricket Club, Vicarage Road, Egham, TW20 8NP
Regular South West Trains run from Waterloo direct to Egham, which is the recommended railway station for travelling to .Trains run from London Waterloo, with a journey time of between 30 to 50 minutes. Egham can also be reached directly via other mainline stations.
Reading: Trains run approximately every 30 minutes with a journey time of 46 minutes, and a less frequent service running on Sundays.
Weybridge: Trains run approximately every 30 minutes with a journey time of 29 minutes, and a less frequent service running on Sundays with 1 train every hour.
You will need to plan your journey carefully – Egham train station is 0.6 miles from Egham Cricket Club, and can be walked within 15 minutes.
CAR
**PLEASE NOTE THAT THERE IS STRICTLY NO PARKING WITHIN CLOSE PROXIMITY OF THE RUNNERS VILLAGE INCLUDING AT THE ACHIEVE LIFESTYLE EGHAM ORBIT LEISURE CENTRE**
We're just 20 miles from Central London, with plenty of transport links between Junctions 11 and 13 of the M25 (but for reasons unknown to us, you can't get here from J12). The best way to get here if you use a smart phone is to download the Google Maps app.
​Social Media

For updates leading up to the race, please check out our on Twitter @thorpehalf use the hashtag #thorpehalf in the build-up to the race.
If you want to talk all things running before and after the event join our RunThroughUKChat group on Facebook.
If you #RunThroughUK on Instagram with your race day collages, the best ones will feature on our page!
​
If you had any further questions please take a look at our COVID-19 specific FAQ's page HERE or contact us by email at [email protected].
We look forward to seeing you there!
The RunThrough Team 🙂